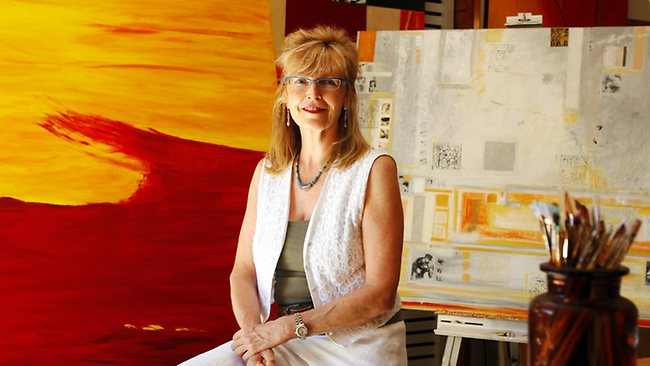 Photo Courtesy of The Courier Mail
Born in Paris, Christine's artistic career began as a fashion designer before moving to Queensland in 1995 to concentrate solely on painting.
A prolific abstract painter with more than 25 solo exhibitions and 60 group exhibitions (in Australia, Hong Kong, Italy, Spain, Canada, the United Arab Emirates and France) Christine has received over a relatively short period substantial critical acclaim.
Her work continues to garner interest nationally and internationally and is in numerous private and corporate collections worldwide. See biography…
Christine Maudy' s abstract compositions and collages are narrative and meditative with soulful themes of journey, discovery and placement. They do not only depict abstract reminiscences of places seen, they embrace the beauty and the fragility of the natural world and the poetics of everyday. They evoke the sense of endless space and invite the viewer to stay still for a moment in a quiet inner place.
"Painting is my inner experience and involvement with the mysteries of nature and form, expressed in colour, texture, line, space and light. It reflects of the passing time, of impermanence and change and allow me to explore my own language in a space where I feel free."
Maudy's works mirror shapes and colors of the nature elements. They come alive in a beautiful balance between fluidity and careful geometric composition. Their surfaces shine and radiate, transmitting an energy, which at times culminates into turbulence. The elements change substance, water and sky merge, shapes floats to tell us a story of time and places. Just beneath the surface deeper layers reveal traces of hidden structures, thick layers of paint mixed with sand and collage.
"The true work of art is born from the artist, a mysterious, enigmatic and mystical creation. It detaches itself from him, it acquires an autonomous life, becomes a personality, an independent subject, animated with spiritual breath, the living subject of a real existence of being" Kandinsky
Please check her artist statement
Testimonials:
"We received Ataraxia yesterday in perfect condition. This is most certainly the right painting for us as BOTH my husband and I LOVE it, which is not normally the case with artwork. The blue shades are all so perfect and gives me a sense fluid tranquility. WE can't wait to get it on the wall as it will transform the room. We will hang it this weekend!
Thank you and we look forward to visiting the gallery in Melbourne for more of your works."
Best wishes,
"S." Customer Hong Kong
"Hi I just got back (from travel abroad) at 6 am and am now at job installing your paintings and just wanted to tell you that the client and all staff at British Petroleum really love the works. Congratulations! I'll send pics its looking amazing:)"
Txt message from Alison Holland – Commisionaire Sydney March 2008